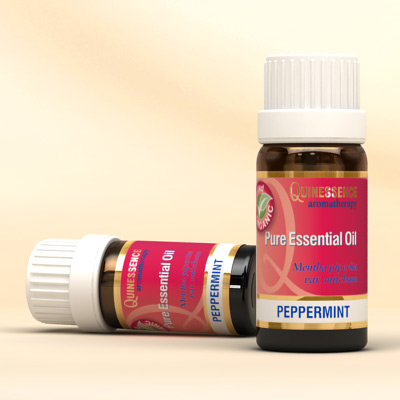 Peppermint Essential Oil - Certified Organic
Cooling, clearing and reviving. Peppermint is an extremely versatile essential oil and can be used for a broad range of applications and therapeutic treatments. Our Organic Peppermint Essential Oil has a creamy, minty-fresh aroma that is much smoother than the harsher oil produced in other countries, and is refreshing, uplifting and cooling.
When inhaled, the reviving aroma of Organic Peppermint Essential Oil relieves the symptoms of travel sickness, nausea, jet lag and general fatigue, whilst in massage it is particularly helpful with digestive disorders such as indigestion, cramps, vomiting and diarrhoea. It works effectively with emotional states too, such as mental exhaustion, impatience, indecision, irritability, poor memory, shock, and improves mental clarity or lack of concentration.
Just a few drops of Organic Peppermint Essential Oil in a footbath can cool, soothe and refresh tired, aching feet in a way that absolutely nothing else natural can! It's a great muscle relaxant that soothes away general muscular aches and pains and stiff joints, which is why it is valued so highly in sports massage therapy. Its antiseptic, anti-infectious and cleansing qualities bring relief to colds, flu and catarrhal congestion, whilst its stimulating action helps overcome general fatigue and burn-out.
Buy with confidence – 30 Day Money-back Guarantee
Not tested on animals – learn more
Botanical Name:

Mentha piperita

Country of Origin:

United Kingdom

Extracted From:

Leaves and tops

Extraction Method:

Steam distillation

Principal Constituents:

Menthol, menthone, iso-menthone, menthofuran, menthyl acetate, 1,8 cineole, limonene, a-pinene, b-pinene, b-caryophyllene, pulegone, piperitone.