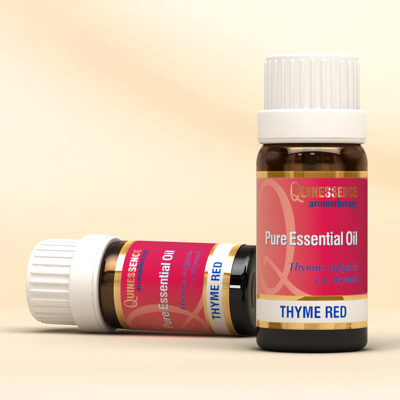 Thyme Red Essential Oil (thymol c.t.)
Antimicrobial, antiseptic and stimulating. This incredibly powerful antimicrobial oil is distilled from the herb Thymus vulgaris, and oil is one of several different chemotypes that are used by aromatherapists to treat a wide range of conditions. Red Thyme Essential Oil is the strongest type of all the oils obtained from this species and has a wide spectrum of uses.
Red Thyme Essential Oil inhibits fungal infections, bacteria, viruses, and is a circulatory stimulant, which makes it ideal in massage blends to combat fatigue, increase the mobility of stiff joints and ease muscular aches and cramps. A few drops of this oil in a diffuser or on a tissue can be inhaled to clear blocked sinuses with the added benefit that it fights off viral infections and purifies the air.
Thyme oil was used in hospitals as a disinfectant and to medicate surgical dressing right up until the First World War, since it is seven times stronger than carbolic acid and protected against a wide range of diseases including yellow fever. Aromatherapists often use Red Thyme Essential Oil today in acne treatments since it has a more powerful antibacterial effect than benzoyl peroxide. A

This is a powerful essential oil, and should not exceed a maximum concentration of 1.5% and avoid mucous membranes or damaged skin. Do not use during pregnancy


Buy with confidence – 30 Day Money-back Guarantee
Not tested on animals – learn more
Botanical Name:

Thymus vulgaris

Country of Origin:

Spain

Extraction Method:

Steam distillation

Principal Constituents:

Carvacrol, Thymol, Camphene, Cymene