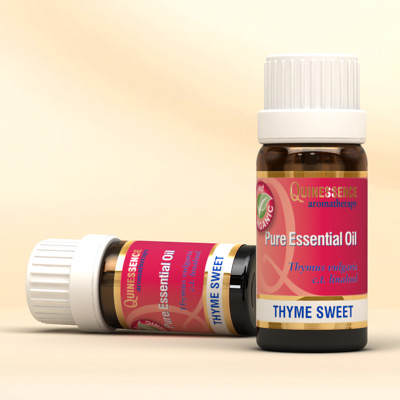 Thyme Sweet Essential Oil (linalool c.t.) - Certified Organic
Antimicrobial, restorative and strengthening. With its sweet, herbaceous and slightly green aroma, our Organic Sweet Thyme Essential Oil has more of a gentle restorative action than other thyme chemotypes. It still has strong antibacterial properties, but not as pronounced as those found in the red and white thyme essential oils, making sweet thyme the preferable choice for use with children and the elderly.
Organic Sweet Thyme Essential Oil has a restorative action that gives you a boost and helps you get back on your feet after illness.
Organic Sweet Thyme Essential Oil can have a normalizing effect on obsessive emotions, helping to bring a sense of balance.
Buy with confidence – 30 Day Money-back Guarantee
Not tested on animals – learn more
Botanical Name:

Thymus vulgaris ct. linalool

Country of Origin:

France

Extracted From:

Flowering tops

Extraction Method:

Steam distillation

Principal Constituents:

Linalool, b-Caryophyllene, Linalyl acetate, Thymol, Geranyl acetate, g-Terpinene, Geraniol, Carvacrol.