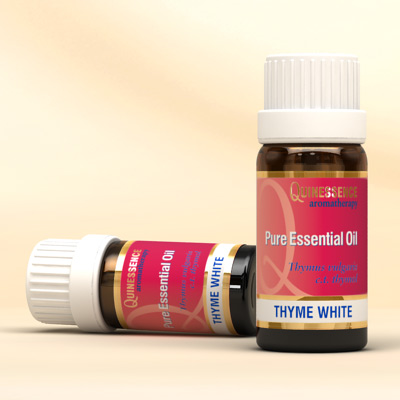 Thyme White Essential Oil (thymol c.t.)
Antimicrobial, antiseptic and stimulating. Thyme White is a powerfully antimicrobial essential oil with a strong camphoraceous and herbaceous aroma that smells powerfully aromatic. It is a circulatory stimulant that is excellent in aromatherapy massage blends to ease muscle cramps and aches after exercise. It increases the mobility of tired, stiff joints and combat fatigue after a physical workout.
White Thyme Essential Oil is an ideal winter essential oil, and a few drops of this oil on a tissue or in a diffuser or can be inhaled with the added benefit that it purifies the air in your home. 
This is a powerful essential oil, and you should never exceed a maximum concentration of 1.5%. Always avoid mucous membranes or damaged skin. Do not use during pregnancy.


Buy with confidence – 30 Day Money-back Guarantee
Not tested on animals – learn more
Botanical Name:

Thymus vulgaris

Country of Origin:

Spain

Extracted From:

Flowering tops

Extraction Method:

Steam distillation

Principal Constituents:

Carvacrol, Thymol, Camphene, Cymene