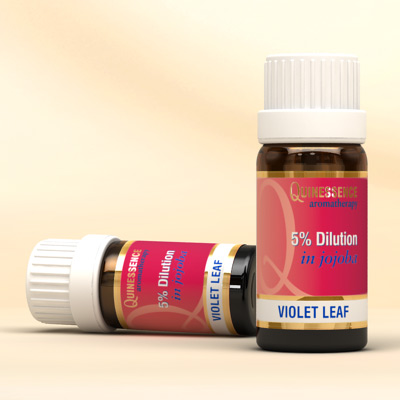 Violet Leaf 5% Dilution
Soothing, comforting and reassuring. The aroma of Violet Leaf Absolute is leafy-green, with a delicate floral aroma, with complex cucumber and tea-like overtones. When the absolute is highly diluted the aroma becomes a little more floral and reminiscent of violets, which is why it is still so highly prized in high class perfumery today. However, please note that this oil is obtained from violet LEAVES and does not smell strongly of violet flowers!
Marguerite Maury referred to the regenerative powers of Violet Leaf Absolute in her groundbreaking book 'Guide to Aromatherapy' (1961), stating that the oil re-establishes elasticity in tissues and muscles, and helps release toxins. This makes Violet Leaf indispensible for revitalizing a dry and lifeless complexion, softening wrinkles, and reducing facial thread-veins. It is also an excellent choice for soothing and cooling acne, dermatitis and eczema prone skin.
Violet Leaf is currently included in the British Herbal Pharmacopoeia for use with common skin problems, where they also confirm it soothes and comforts dry, red, itchy and sensitive skin when used in regular skin care treatments. This supports exactly what experienced aromatherapists have been saying for the past 30 years!
This oil is an ideal choice for treating grief because since it anchors our emotions after the death of a loved one, or the loss of something very important to us in daily life, such as a job. Violet Leaf provides comfort and support whilst boosting morale, and encourages the tenacity that is needed whilst working through the grieving process. Its effects could also be described as stabilising, so it is indicated for personalities who suffer with all types of mood swings.
Buy with confidence – 30 Day Money-back Guarantee
Not tested on animals – learn more
Botanical Name:

Viola odorata

Country of Origin:

France