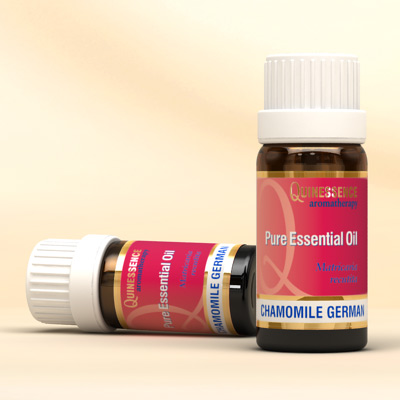 Chamomile German Essential Oil
Antibacterial, soothing and relaxing. German chamomile is a remarkable essential oil, and few oils perform better when you need a powerful soothing action. The soothing and relaxing effects of the herb on mind and body are both legendary and well proven, with over 2,000 years of documented medical use by such luminaries as Asclepius, Galen, Hippocrates and Culpepper.
German Chamomile Essential Oil is distilled from the flowering heads of the plant which releases a beautiful dark blue oil with a strong herb-like aroma. This highly versatile essential oil can be inhaled during a high pollen count, used to ease symptoms during the menopause, and is highly effective in massage to ease aching muscles and joints after a strenuous day.
German Chamomile essential oil contains a constituent called chamazulene which is responsible for the dark blue colour and the pronounced soothing and easing qualities for general aches and pains.
Buy with confidence – 30 Day Money-back Guarantee
Not tested on animals – learn more
The anti-inflammatory properties of chamazulene and a-bisabolol which are natural compounds in German Chamomile Essential Oil have been investigated and authenticated extensively in research. As is so often seen though, these properties are more pronounced when both of these constituents appear together in the 'whole essential oil' rather than tested in isolation after separating them from the oil.
Botanical Name:

Matricaria recutita

Country of Origin:

Egypt

Extracted From:

Flowering tops

Extraction Method:

Steam distillation

Principal Constituents:

b-Farnesene, a-Bisabolol, a-Bisabolol oxides A & B, Chamazulene, a-Bisabolene, Spathulenol, a-Bisabolone oxide A, Matricin.