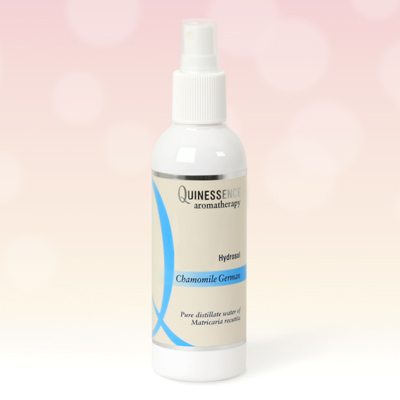 Chamomile German Hydrosol
Relaxing, reducing and soothing. In common with the essential oil from which it comes, German Chamomile Hydrosol is exceptionally soothing to irritated and problem skin.
You can also use it as a cleanser and toner on sensitive and irritated skin conditions. Its soothing and cleansing properties can also be used for nappy rash.
Where to buy German Chamomile Hydrosol
It is not commonly known that German Chamomile hydrosol is actually quite rare, because most producers cohobate (re-distil) the distillate water to recover all of the essential oil due to its high value. Although Quinessence have sold this hydrosol for many years, its availability has been a constant challenge for us, and some years there was no fresh material available at all - anywhere. Thankfully, this has become a thing of the past now.
Buy with confidence – 30 Day Money-back Guarantee
Not tested on animals – learn more
Country of Origin: France


Botanical Name: Matricaria chamomilla


Extracted From: Flowering tops


Extraction Method: Steam distillation