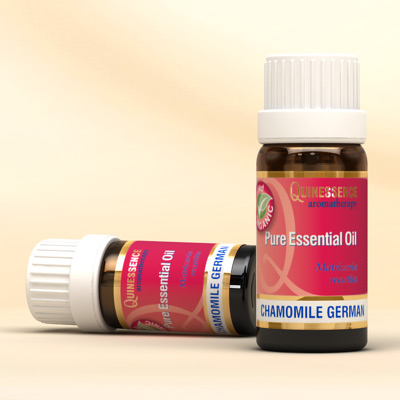 Chamomile German Essential Oil - Certified Organic
Antibacterial, soothing and relaxing. Highly versatile, German Chamomile Essential Oil is often the first choice of aromatherapists when treating premenstrual syndrome, menstrual cramps, and a wide range of menopausal problems. In massage blends its soothing properties also bring a soothing and comforting action to tummy upsets as well as muscular and joint pain after a strenuous day.
In skin care treatments, German Chamomile Oil soothes and soothes dry, itchy, red and irritated skin, plus it provides antibacterial protection while speeding up the healing process with spots and acne. The powerfully relaxing qualities of this oil are ideally suited to getting a good night's sleep, especially when blended with other relaxants such as clary sage, lavender or ylang ylang.
As well as having an unrivalled soothing action, Organic German Chamomile Essential Oil also exhibits a powerful antibacterial action against a wide range of bacterium. This makes it invaluable in blends for protecting against bugs while helping to speed up the healing process of cuts and scrapes etc.
Antibacterial organic oil
At a concentration of 25 mg/mL, German Chamomile Essential oil demonstrates antibacterial activity against gram-positive bacteria such as Bacillus subtilis, Staphylococcus aureus, Streptococcus mutans, and Streptococcus salivarius, as well as mild fungicidal activity against Candida albicans. (1)

(1) Aggag ME, Yousef RT. Study of antimicrobial activity of chamomile oil. Planta Med 1972;22:140-144.
Buy with confidence – 30 Day Money-back Guarantee
Not tested on animals – learn more
Botanical Name:

Matricaria recutita

Country of Origin:

Egypt

Extracted From:

Flowering tops

Extraction Method:

Steam distillation

Principal Constituents:

b-Farnesene, a-Bisabolol, a-Bisabolol oxides A & B, Chamazulene, a-Bisabolene, Spathulenol, a-Bisabolone oxide A, Matricin.