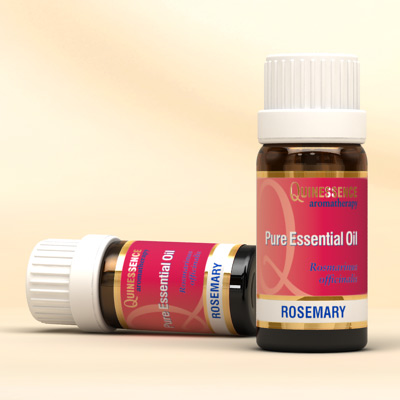 Rosemary Essential Oil
Antibacterial, stimulating and clearing. Rosemary Essential Oil is a circulatory and nervine stimulant that brings a warming and soothing effect everyday muscle and joint aches as well as back strains. A few drops in a warm bath or added to aromatherapy massage blends delivers a powerfully reviving and uplifting effect to the whole body, acting as a general pick-me-up when you are feeling lethargic.
The fresh, herbaceous aroma of Rosemary Essential Oil helps clear the head and stimulates mental activity, which is why this essential oil has enjoyed a reputation for improving the memory since ancient times. In skin care Rosemary Essential Oil strengthens the capillaries and works to regulate excessive oiliness, whilst its antibacterial properties help cleanse pimples.
Added to a base shampoo and conditioner, Rosemary Oil helps to keep hair healthy, soft and shiny. It has been used for hair loss since ancient times, and recent research has proven that it really works. Our ancestors believed that rosemary promoted youthfulness and used it as a preservative, and modern research has proven that rosemary does indeed exhibit potent anti-oxidant, antimicrobial and preservative properties. This is why it is often included in cellulite massage blends.

The same energising properties Rosemary Essential Oil brings to the body work on the emotional system too. It can be like a ray of sunshine, bringing hope and strength to those who have lost their self-worth and become disheartened and unable to deal with adversity. Avoid use if you are pregnant of suffer from epilepsy.
Buy with confidence – 30 Day Money-back Guarantee
Not tested on animals – learn more
Botanical Name:

Rosmarinus officinalis

Country of Origin:

Tunisia

Extracted From:

Flowering tops

Extraction Method:

Steam distillation

Principal Constituents:

1,8 Cineole, a & b Pinenes, b-Caryophyllene