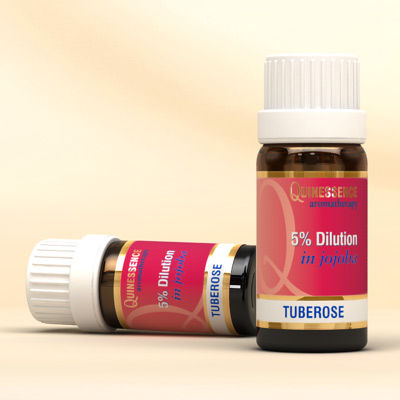 Tuberose 5% Dilution
Relaxing, balancing and strengthening. The intoxicating fragrance of Tuberose is sweet, floral and honey-like, with spicy and narcotic undertones. The absolute that has been extracted from this flower is considered by some experts to be the most expensive natural flower oil at the disposal of the perfumer, and literally worth its weight in gold.
Tuberose has relaxing properties that are used in massage treatments for muscular aches, pains and cramps, and its powerfully relaxing qualities help to release nervous tension and stress. When used in skin care treatments, this diluting essential oil stimulates the skin's micro-circulation, which makes it perfect for rejuvenating and revitalizing a tired, dull, lifeless complexion. Plus it smells divine!
Tuberose is an extremely grounding, stabilising, fortifying and empowering oil which helps keep ones feet firmly on the ground whilst adverse conditions are being dealt with in daily life. This makes it invaluable in aromatherapy treatments to instil perseverance and determination to anyone who is subjected to unwanted dramatic changes in their lives.
Use it to encourage a transformation of character, to dispel negative attitudes, and instil a positive resolve to improve your circumstances. It is effective also for dispelling anxiety and negativity, offering support throughout a transformation of character. These therapeutic benefits make tuberose and ideal oil for treating obsessive behavioural problems.
Buy with confidence – 30 Day Money-back Guarantee
Not tested on animals – learn more
Botanical Name:

Polianthes tuberosa

Country of Origin:

India